Mít vlastní internetové stránky není již tak těžké!!! Nyní máte jedinečnou možnost získat profesionálně zhotovené internetové stránky za velmi příznivou cenu.
V dnešní době je minimální výdaj na zhotovení internetových stránek i 17 000 Kč. U nás je to jinak! Můžeme Vám udělat internetovou prezentaci v HTML nebo na open-source redakčním systému WORDPRESS a proto můžete mít kvalitní internetové stránky za velmi příznivou cenu. K tomu Vám nabízíme řadu doplňkových služeb, jako jsou tvorba vizitek za bezkonkurenční ceny v opravdu vysoké kvalitě a další grafické či foto práce se slevou za využívání našich služeb.
Proč mít vlastní internetové stránky?
Je to snadné. V dnešní elektronické době je velice důležité být vidět i na internetu. Internet je v mobilu, v počítačích, na cestách v tabletech. Je prakticky všude. A pokud jste tam i vy, můžeté být také lépe vidět. Zákazníci si Vás mohou snadnou najít v katalogu firem, vy si sami můžete nechat vyvěsit banner s reklamou na prakticky kterékoli stránky a BÝT VIDĚT a hlavně oslovit podstatně více zákazníků. V dnešní době je pro Vaše zákazníky a návštěvníky snažší si Vás najít v pohodlí domova než objíždět celé město. Proto si nechte vytvořit internetové stránky od nás. A nyní můžete využít akční nabídky a ještě za stránky ušetříte. Snažíme se Vám vyjít vstříc a vytvořit levné internetové stránky, proto neváhejte využít této akční nabídky.
Proč využít naše řešení ?
Redakční systém Vám umožní spravovat Vaše WWW stránky pohodlným způsobem a to vše na jednom místě a dokonce i bez znalosti kódovani. Sami si můžete psát obsah stejně ,jako když píšete mail přes internetové stránky vašeho poskytovatele emailu. Běžně ale vývoj Vašeho vlastního redakčního systému stojí velké peníze, i 80 000 Kč není žádná zvláštnost. Případně budete muset platit měsíční nájem za užívání jejich systému.
My nabízíme velice kvalitní alternativu v podobě open-source řešení WORDPRESS.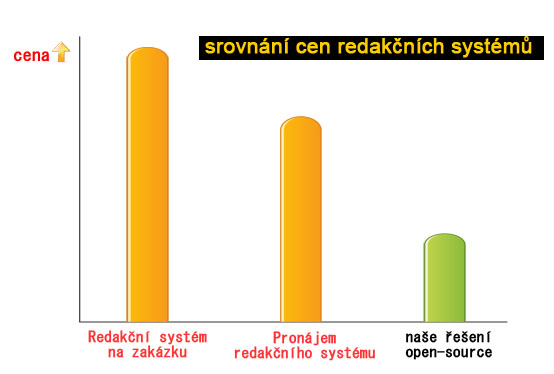 Průběh spolupráce
Na začátku analyzujeme Vaše představy a přání, navrhneme strukturu webu, poskytneme vám návrhy moderní grafiky webových stránek, aplikační zpracovaní, zajistíme registraci a provoz vaší domény, můžeme zprostředkovat webhosting s kvalitní nabídkou služeb, dále registraci do významných českých i světových vyhledávačů. Samozřejmostí je instalace a zaučení práce s redakčním systémem.